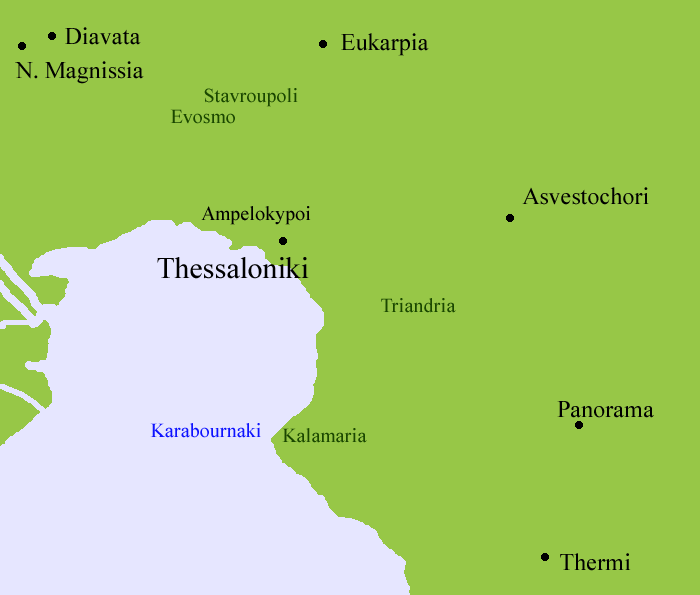 Bahçe Çiflik or Baxe Tsifliki (Greek: Μπαξέ Τσιφλίκ or Μπαξέ Τσιφλίκι) was an area near Thessaloniki. One famous song which talks about seven areas of Thessaloniki (inside with twelve) was "Bahçe Çiflik" by Vassilis Tsitsanis which was and that famous with one Thessalonican, named Marigoula that time. The road which continued the narration was these as followed: Passed from Baxe Tsifliki and passed from Karabournaki (area around Kalamaria) and finally one ride from Ano Poli which was destroyed in Koutsoura tou Dalamagka. "The Koutsoura tou Dalamagka " was in the crossing of Tsimiskis and Nikiforos Fokas Street. Giorgos Dalamagkas was the owner. During the period of the occupation Vassilis Tsitsanis, Markos Vamvakaris and Papaioannou played there music.
For Bahçe Çiflik that time was a place that wrote many rebetiko music for the good memories which brought to the Thessalonicans. Basically was the place for spening summers. Every year, a large percentage of the inhabitants of Salonica went there and bought properties. In the morning, they went ot the beach and every night went the shoreline taverns and danced. These by the side of the beach sand and had extended which continued into the sea with support posts. Today Bahçe Çiflik and Baxe Tsifliki is known as Neoi Epivates of the municipality of Thermaikos in the Thessaloniki Prefecture.

The lines of the song "Bahçe Çiflik or Baxe Tsifliki
Πάμε τσάρκα πέρα στο Μπαξέ-Τσιφλίκι
κούκλα μου γλυκιά απ' τηΘεσσαλονίκη
στου Νικάκη τη βαρκούλα,γλυκιά μου Μαριγούλα,να σου παιξώ φίνο μπαγλαμά.



Πάμε τσάρκα πέρα στο Καραμπουρνάκι,
να τα πιούμε μια βραδιά στο Καλαμάκι,
κι από 'κει στο Μπεξινάρι, σε φίνο ακρογιάλι,να σου παίξω φίνο μπαγλαμά.



Πάμε τσάρκα στην Ακρόπολη, στη Βάρνα,
κι από 'κεί στα Κούτσουρα τουΔαλαμάγκα
Μαριγώ, θα σε τρελάνει,ν' ακούσεις τον Τσιτσάνη να σου παίξει φίνο μπαγλαμά.

Ancient Greece

Medieval Greece / Byzantine Empire

Modern Greece

Science, Technology , Medicine , Warfare
, Biographies , Life , Cities/Places/Maps , Arts , Literature , Philosophy ,Olympics, Mythology , History , Images

Science, Technology, Arts
, Warfare , Literature, Biographies
Icons, History

Cities, Islands, Regions, Fauna/Flora ,
Biographies , History , Warfare
Science/Technology, Literature, Music , Arts , Film/Actors , Sport , Fashion