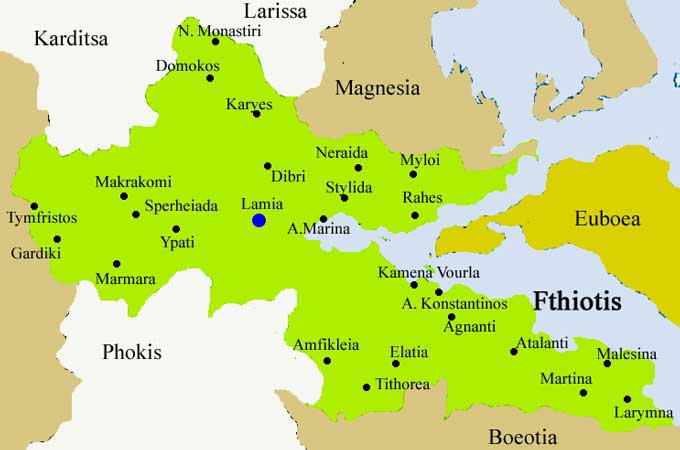 Statistics
Capital:
Lamia
Area:
4,368 km ²
Inhabitants:
178,896(2001)
Population density:
40.96inh./km ²
ISO 3166-2:
GR-06
Car designation:
MI, Lamia
Code for the municipalities:
49xx
Number of provinces:
2
Number of municipalities:
23
Number of independent communes:
2
Area/distance code:
11-30-226x0 (030-226x0)
Postal code
3x xx
Name of inhabitants:
Phthiotian/Fthiotian sing.
-s pl.
2 letter abbreviation/HASC:
FT
Address of administration:
10 Ypsilantou St.
Lamia 351 00
Website:
www.fthiotida.gr
(in Greek)
Fthiotis, or Fthiotida (Greek, Modern: Φθιώτιδα, Ancient/Katharevousa: Φθιώτις) is one of the fifty-one prefectures of Greece. The capital is the city of Lamia. It is bordered by the prefectures of Euboea via a gulf in the east, Boeotia in the west, Phokida in the south, Aitolia-Acarnania in the southwest, Evrytania in the west, Karditsa in the west, Larissa in the north and Magnesia in the east.


Geography

Much of the areas within the shorelines are mountainous from the southern part with a few low-lying areas but the lowlands are in the central part and a length of 200 to 500 m in average in the north and in the Cephissus and the Spercheios valleys. GR-1 used to encircle the western part of the shoreline of Fthiotis until a tunnel opened up. Mountains dominate the south, the southwest, the further west and the north.


History

The region was under the control of the Roman Empire since 191 BC. It was liberated 1832 from the Ottoman Empire.
In 1942 Greek partisans destroyed the Gorgopotamos bridge which was significant for the German forces to supply material for their troops in North Africa.
The prefecture in the 1950s began construction of the GR-1 (Athens - Lamia - Thessaloniki). Electricity and pavement of the roads began in the 1950s and the 1960s. The highway bypassed Lamia. It was opened a few years later. In the late-1990s, the tunnel began construction and was planned in the later part of the century ans is located in the eastern part of the prefecture. The grand opening of the Maliakos Tunnel linking near Stylida and E of Kameni Vourla was opened in the mid-2000s.


In the Spercheios, flooding which began on March 6, 2005 flooded several places and caused mudslides in the western part wrecking homes and properties.


Papadia Bridge
Transportation

E65, S, Cen., NE

Greece Interstate 1/E75, SE, E, Cen., NE

Greece Interstate 3, SE, S, Cen., N

Greece Interstate 27, S, Cen.

Greece Interstate 38, W, Cen.

Municipalities

| Commune | YPES code | Seat | Postal code |
| --- | --- | --- | --- |
| Pavliani | 4919 | Pavliani Lamias | 351 00 |
| Tymfristos | 4924 | Tymfristos | 350 17 |
Ancient Greece

Medieval Greece / Byzantine Empire

Modern Greece

Science, Technology , Medicine , Warfare
, Biographies , Life , Cities/Places/Maps , Arts , Literature , Philosophy ,Olympics, Mythology , History , Images

Science, Technology, Arts
, Warfare , Literature, Biographies
Icons, History

Cities, Islands, Regions, Fauna/Flora ,
Biographies , History , Warfare
Science/Technology, Literature, Music , Arts , Film/Actors , Sport , Fashion