Overview of the city Serres [
History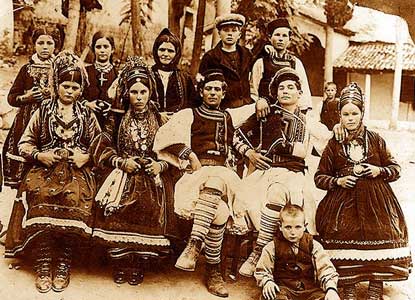 Aromanians (Vlachs) from Serres, beginning of the last century
In modern times, Serres, like the rest of Macedonia was contested territory between Greece, Bulgaria, Yugoslavia and the Ottoman Empire. After its liberation from the Turks by the Bulgarians in the First Balkan War, Serres became a part of Greece at the end of the Second Balkan War. During the National Schism, it was occupied by Bulgaria again only to form part of Greece at the end of the war. During the Second World War Bulgaria occupied Serres and launched a campaign of bulgariasation. It was liberated in 1944. On May 19, 2005, an OSE train was collided at around 7 to 8 in the morning (4 to 5 AM UTC/GMT) injuring four people near Rodopoli on a line linking Thessaloniki and Sidirokastro and Sofia in Bulgaria as well as Serres and Alexandroupoli. Four people were hospitalized in a nearest hospital.

Cuisine

Most typical fare enjoyed by the citizens of Serres is characteristic of the Greek cuisine: A combination of mediterranean and middle eastern flavors, mild, and almost entirely devoid of hot spices. 'Gyros', a greek variation (pork included) of the middle eastern 'shoarma', or turkish 'Doner kebab', is the main fast food item of choice. 'Souvlaki', in the northern greek sense, is also consumed here, most famously in the 'Souvlaki zone' around the pedestrianised streets of downtown Serres.


One delicacy that is truly unique to the region is akanes, which is a type of gourmet turkish delight prepared to a secret recipe since the beginning of the 20th century by the 'Roumbos' family. Allegedly, 'Aristeidis Roumbos', the confectioner who invented this candy, disclosed the recipe to one of his loyal trainees, who then proceeded to establish a rival 'akanes' business. Nevertheless, the Roumbos family, to this day, continues to produce this mouth watering delight in their quaint workshop, which is reminiscent of life in the 1950's.

Information

A substantial portion of the population of the prefecture are descended from refugees which came from Eastern Thrace which is now Northwestern Turkey, Asia Minor and from Pontus during the Greco-Turkish War.


The prefecture has a lot of archaeological and historical features including Serres, Amphipolis, several monasteries, and Metaxa near the border with Bulgaria. The prefectre is also a tourist attraction including Lailia, rich in forests, a skiing resort in the central portion, lake Kerkini which is a reservoir supplying water to the farmlands, fishing is common within Ano Poroia (Άνω Πορόια) especially during the summer months and famous caves near Alistrati (Αλιστράτη).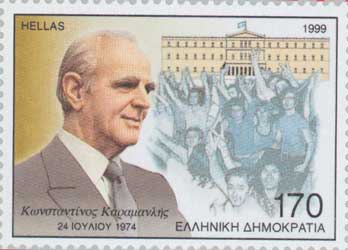 It is also famous for being the place of origin of Constantine Karamanlis. (Proti Serron)

Climate

The areas that mainly get Mediterranean climate is at the southern portion by the Axios valley. Its climate is mainly continental with cold winters in higher elevations.

Transportation

GR-2/E75, Via Egnatia, old and new, SW, S
GR-12/E90, SW, Cen., SE
GR-63/E75, Cen., N
GR-65, NW

Famous inhabitants of the Serres prefecture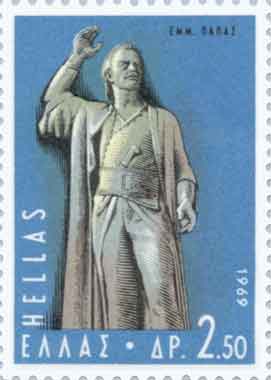 Emmanouil Papas (or Pappas) (1773 Dovista / Emmanouil Papas - 5.12.1821) monument in Eleftherias (freedom) square , Sculpture work of Nikos Perantikos. Papas participated in the war of Independence.
Angelos Charisteas football (soccer) player
Constantine Karamanlis. (March 8, 1907 in Proti - April 23, 1998) , a former Greek prime minister and president
Ioannis Melissanidis, a Greek gymnast athlete

Places

Heraklia
Nea Zichni
Nigrita
Serres
Sidirokastro

Provinces

Serres Province - Serres
Visaltia - Nigrita

Agios Nikolaos Church, Serres , Vangelis Vlahos /Greek Wikipedia
Division of the municipality of Serres wiht a population 56145 in 2001
Serres / Δ.δ. Σερρών [ 54.666 ]


Serres / οι Σέρρες [ 54.266 ]

Kato Metochi / το Κάτω Μετόχι [ 175 ]

Krinos / ο Κρίνος [ 48 ]

Xirotopos / ο Ξηρότοπος [ 177 ]


Elaion / Δ.δ. Ελαιώνος [ 375 ]


Elaion / ο Ελαιών [ 300 ]

Marmaras / ο Μαρμαράς [ 42 ]

Moni Timiou Prodromou Serron / η Μονή Τιμίου Προδρόμου Σερρών [ 29 ]

Chrysopigi / η Χρυσοπηγή [ 4 ]


Eptamyloi / Δ.δ. Επταμύλων -- οι Επτάμυλοι [ 517 ]

Oinoussa / Δ.δ. Οινούσσας (Χιονοχωρίου) [ 587 ]


Oinoussa / η Οινούσσα [ 524 ]

Chionochorion / το Χιονοχώριον [ 63 ]

Municipalities of the Prefecture

| Commune | YPES code | Seat | Postal code | Area code ((0)30-) |
| --- | --- | --- | --- | --- |
| | 4706 | | 623 00 | 23230-6 |
| Agkistro | 4701 | | 623 00 | 23230-4 |
| Ano Vrontou | 4704 | | 621 00 | 23210-8 |
| Oreini | 4716 | | 621 00 | 23210-5 |
| Promachonas | 4718 | | 623 00 | 23230-4 |
Sporting teams

Primary and Secondary divisions A' and B' Ethniki

Moni Ioannou Prodromou, Elaion / Serres [Source]
Fiali Agiasmou from 1854 with inscription : ΝΙΨΟΝ ΑΝΟΜΗΜΑΤΑ ΜΗ ΜΟΝΑΝ ΟΨΙΝ"
"Wash your sins not only your face" (in Greek text can be read also in reverse order )
Andronicus Palaeologus , Byzantine Emperor from the Iera Moni Serres [Source]
Junior division

Agkistro
Ano Poroia
Heraklia
Lithotopos
Nigrita FC
Pontismeno
Rodopoli
Sidirokastro FC
Vyroneia

Monuments
Kerdylia, in memory of the 250 men and boys between the age 15 and 60 who were executed by German soldiers on 17 October 1941
Links

Retrieved from "http://en.wikipedia.org/ "
All text is available under the terms of the GNU Free Documentation License